How to Hypergrid to jokaydiaGRID!
How to Hypergrid to jokaydiaGRID!
jokaydiaGRID has recently reconnected to the Hypergrid! You'll find us via the following Hypergrid Addresses:
Upper Zone: svc.jokaydiagrid.net:8002:hypergridupper
Middle Zone: svc.jokaydiagrid.net:8002:hypergridmiddle
Lower Zone: svc.jokaydiagrid.net:8002:hypergridlower
Teleport to whichever one of these is within reach from where you are.
How to Hypergrid
The simplest way to Hypergrid is to use a Hypergate – you will find these scattered around many Opensim grids. However you can also use the Map tools. To do so, open the Map window (click on the "Map" button at bottom right of your screen or press Ctrl-M) and copy / paste the hypergrid address into the search box. Click on the "Search" button and then click teleport once the destinations appears in the list of search results.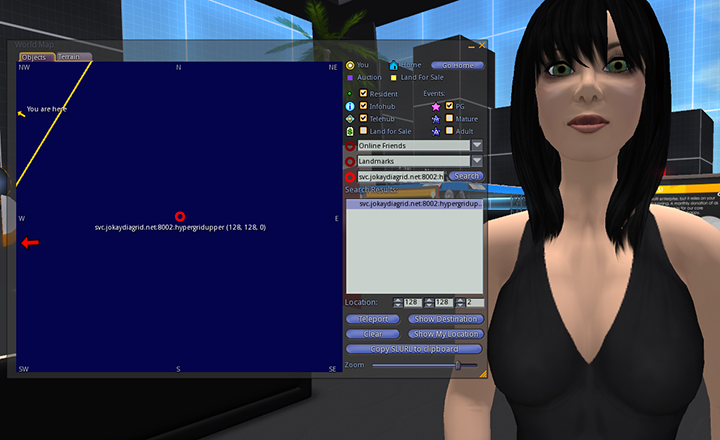 You'll find that one of the hypergrid addresses above should work, depending on where you are on your home grid. This is due to the "4096 bug" which prevents you from teleporting more than 4096 regions in any direction.
Every region has a grid coordinate, similar to a longitude and latitude on a regular map. Some grids cluster their regions around the 10000, 10000 mark, whilst others including jokaydiaGRID centre their regions around 1000, 1000. You'll find more info about this via the very handy Hyperica resources here.
When teleporting from a region in the Upper Coordinates (eg. 10000, 10000) you'll need to Teleport into jokaydiaGRID's HypergridUpper region and then teleport down to the main part of our grid via HypergridMiddle and finally to our landing zone region which is named Scooter sim. There are teleport tools at each region to assist you in this process.
How to Explore the Hypergrid
Similarly you can explore other grids by using the Map technique above. To locate Hypergrid addresses, visit Grid websites or explore the following Hypergrid portal sites:
jokaydiaGRID has a number of resources setup on our Hypergrid enabled regions which will assist you in Teleporting on the Hypergrid. You'll find these at HypergridLower, HyperGridMiddle and HypergridUpper regions.
You will also find Hypergrid Teleporters to interesting, edu-friendly locations on the Hypergrid at each of our Hypergrid enabled regions at jokaydiaGRID.
Digital Citizenship and Safety
Please be aware that Hypergrid Travel takes you out onto public grids which are managed by a range of different operators and focus on a range of different activities and projects. We recommend that you visit and explore Hypergrid locations BEFORE taking your students out onto the Hypergrid!
To ensure that students are provided with information and warnings, we have placed signs and information on all our Hypergridded regions to remind users to be careful and use their digital literacy skills to make good choices. Additionally we have also placed clear signs to remind visitors that jokaydiaGRID is a PG-Rated grid and all activities, avatars and other content must meet these standards.
Resident's regions are not Hypergridded and users can only exit our grid and start exploring the Hypergrid from the  HypergridLower, HyperGridMiddle and HypergridUpper regions.
Why Doesn't It Work!?
Please note the Hypergrid is an experimental feature and it can be buggy and frustrating at times. Opensim developers are working to improve these features all the time. Some of the reasons for Hypergridding difficulties are:
Your destination could be too far away – eg. the '4096 bug' described above.
The region you're starting from could be running a version of OpenSim that is too far behind — or too far ahead — of the destination region.
Some users report that they can only make hypergrid jumps AFTER choosing a home location on their home grid.
The destination region might have moved, been taken offline or Hypergrid features may have been disabled.
Some regions are only hypergrid-enabled some of the time. An educational organisation, for example, might turn off hypergrid during class time, but re-enable at other times to allow visitors or students to visit from other locations.
The destination might be too busy. Regions on stand-alone or self-hosted servers can usually only handle a very small number of avatars, whilst larger grids can handle larger numbers.